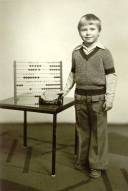 David Šubík graduated sociology in 2007 at Masaryk University in Brno. Since then he closely co-operate with virologist Stefan Lanka and other European scientists and medical doctors. In 2000 he publish a book "HIV? The lie all world believes in".
Plays trombone, synthesizer and electronics, drums, accordion. Works on the field of experimental, improvised and conceptual music as well on intermedia projects around Europe. Took a part of many international festivals. Regularly performs with his band Ear Thieves (with Tomas Havlicek and Pavel Magnusek) - www.earthieves.cz. He worked/works with many musicians and improvisers from all Europe. With a Dutch sculptor Koos v.d. Elsen they co-operate on interactive sculpture projects such us "These boots are made for walking" (Lindabrun Symposion Austria 2000) or "Elephant Song" (Amstel Park, Amsterdam, Holland 2004). He played live electronics in opera by Petr Kofron, Zdenek Plachy & Jiri Simacek - The Phantom Or The Bloody Opera in The National Theatre Prague, and in the Magic Flute (by the same authors) in The City Theatre Brno.
Since 1991 he works occasionally as a studio sound engineer or live mixer. With Zdenek Plachy he co-operates on multimedia projects where he designed the technical solutions of the projects - both indoor and outdoor. He is a house sound engineer of Sklenena louka, Brno, where many of great world musicians are performing.
For more then a decade he is a member of non-commercial association Sklenena louka where he directed international projects "Palinckx in Residence", "Brno between Donnau and Rhein", "Cycles of contemporary Austrian and German art" and many individual performances of worldwide respected artists. In 2002 he co-produced an opera project for the National Theatre Prague "Árie k nezaplacení – Unbezahlbare Arien" by Zdenek Plachy and hans w. koch.

From 2004 he directs summer open air concerts in North Moravia mountains - Beskydy (www.sepetna.cz).
From September 2007 till July 2009 he worked as the artistic vice-director of the Drama dep. of the National Theater Brno. At the moment he is a freelance artist.